Blog
Healing Gardens: Promoting Hospital Staff Wellbeing
Wednesday, November 1, 2017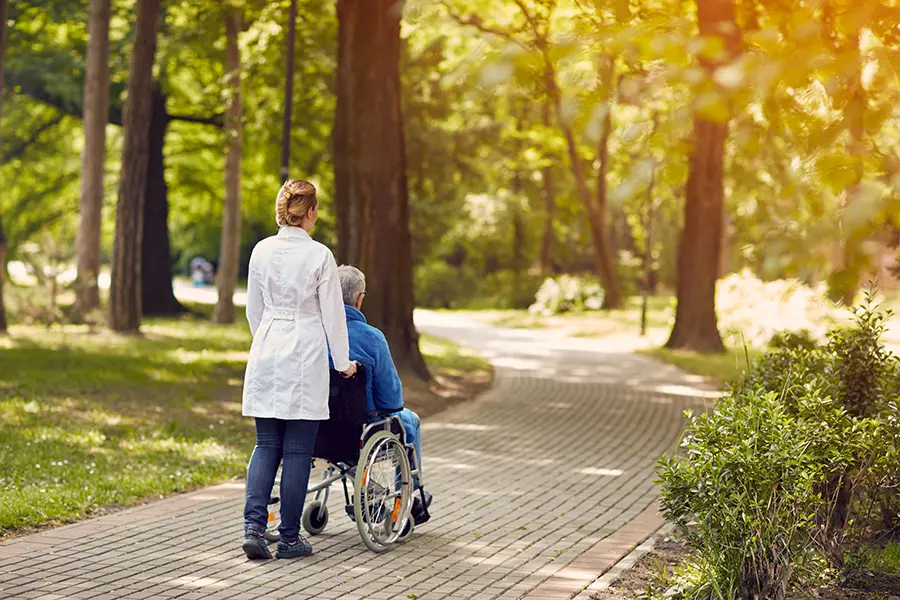 How outdoor spaces and catenary pendants can benefit healthcare professionals
When designing for healthcare environments, we usually consider the patient to be our top priority. Whether we examine patient room design, access to medical attention, healing rates, etc., the patient comes first. Unfortunately, this often means that the wellbeing of physicians, nurses and staff members falls to second place (or last place, in some cases) in facility design priorities.  
Some hospitals, however, commit to staff wellbeing before patient wellbeing. Why in that order? Well, if the staff is well-nurtured, that positive enrichment can reflect immediately on patient care.
Evidence that therapeutic gardens help nurses work better
Legacy Health is a prime example of that concept. They constructed therapeutic gardens (also called healing gardens) across twelve campuses, including Legacy Emanuel Medical Center in Portland. Legacy hoped that through nature, employees would be better able to decrease their blood pressure and stress levels, improve their sleep, and manage pain. Since Portland was their newest garden installed, Legacy was able to partner with TFK Foundation to study the garden's impact on ICU nurses.
Throughout the study, TFK measured the participants' moods, attendance, and a number of health stats after nurses took their breaks in the therapeutic garden. Their findings confirmed the idea that access to nature can positively impact employee wellbeing. While taking care of patients may be their main focus, these nurses welcomed the garden as a place to de-stress and collect themselves in nature—beyond the daily grind. And when they returned from a break outdoors, the nurses were more relaxed and engaged with their patients.
These results were encouraging. Because of this study, even more of Legacy Health's campuses are upgrading their facilities to include gardens.
Patients and staff members thrive in rooftop gardens
Legacy Health isn't the only participant in this growing trend. AAMC News recently published an overview of medical centers with rooftop gardens, which serve as safe, flexible alternatives for metropolitan campuses with very little green space on the ground. Rooftop gardens not only provide controlled access to nature for vulnerable patients, they also "create resilience" for the staff, insulate the building, and reduce rainwater runoff.
These gardens have become an integral part of daily hospital life. The St. Louis Children's Hospital, for example, has had a rooftop garden for so long that its trees have grown over 18 feet tall. Rush University Medical Center in Chicago has a circular path for staff to walk around and unwind. These hospitals are designed to fully optimize the space in order to benefit patients and staff.
When there isn't enough time in the day, outdoor lighting can illuminate gardens at night
As healing gardens take root in medical centers around the country, these facilities need more options for outdoor installations and lighting design—and outdoor pendant lighting would be an enchanting and practical addition to those plans. By hanging luminaires from catenary cables, more space is available for plants and walkways.
At Visa Lighting, we are committed to manufacturing luminaires that maintain quality healthcare environments, and our new line of outdoor pendant lighting fixtures and accessories is no exception. These three product families, available for catenary or canopy mount, will bridge the gap between the interior and exterior lighting needs of healthcare environments. 
Many hospitals bustle with stressful activity around the clock. From healing gardens, entryways, and outdoor paths to rooftop terraces, dining areas, and courtyards, outdoor pendants allow patients and staffto connect with nature—no matter the time of day.
<! -- // row inner -->
Posted in:
Healthcare
Wellness
All Blogs